1. Could you tell us the name of a book that you love, and why? 2. Where were you when you first read, or saw, or heard of this book? 3. Did this book influence your own writing, thinking, sense of the world, or work?
Selected Poems of Frank O'Hara, ed. Donald Allen.
This was the book and the poet, spring semester of my first year of college, that made me want to be a poet. Frank O'Hara was the first poet whose work I'd ever read that was like, well, Frank O'Hara's. The conversational timbre, the street names and city and heat and times-of-day. The oranges and sardines. The Grace and Jane and apple in the mouth. The exuberance. The exclamation points.
I was in New York City, which was the only place I wanted to be and it is safe to say slightly contributed to my total and utter obsession in life and breath and writing with Frank O'Hara's poetry. I was a walking, talking fount of lunch and 52nd Street and Frank O'Hara. I don't ever want to know how many poems I wrote that included some version of, "It is 12:20 in New York a Friday [and...]" …Ever.
I reread some of this collection, because you're always referencing in some manner Frank O'Hara or whoever your own first poet-idol-love was, no? Frank O'Hara's life ended at age 40. I am notably closer to 40 today than I was at 18. I found myself appreciating his work for his, still his, and always his, way of breaking it real and making it real. His generosity. And also a deflection, a diffusion, a rejection of not only the contrived and dull, but of a certain vulnerability as well. Which is not to say the poems don't contain it. They are youth to me, for always.
Kafka on the Shore, Haruki Murakami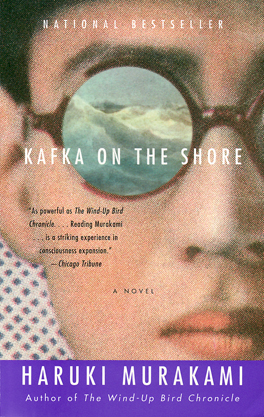 I adore this book. I bought it in hardcover at Prairie Lights in Iowa City when it came out in 2005. It is the power of Murakami's writing that once within that world, there is a part of you that stays unsure you left. And perhaps you haven't. Because Murakami's work at its best is a total and insanely effective unraveling of distinctions. Narrative versus abstract. Answer versus... "answer." Dream versus reality. Reality versus reality. Within book versus extra-book, and that, I think, is why Kafka on the Shore in particular hit me in the gut. The book literally speaks to itself and of itself to you as the reader and climbs out of its not-self and right into your ear canal and ribcage… concurrently. Its protagonists themselves are distinct humans, but sometimes it's impossible to tell who is talking through, or via, which body and from when and where.
There is a journey in this book that is multiple journeys and possibly no journey outside of the mind. There is a coming together and a reconciliation that may or may not have happened, at least not between the same people in the same place in location and history at the same time. But it might have. Or maybe where it does, and the only place it does, is not in the book itself but in your reader's mind and heart. Like the narrative, as we anticipate that structure, literally depends on you. Needs you. Is you.
Our Andromeda, Brenda Shaughnessy
I read this collection yesterday. Brenda Shaughnessy is so talented. Her work is vibrant, shapely, syllabic and sound, living intelligent, musical, intricate, funny. Abstract yet local, local but awe-making.
The title poem of this collection is beyond powerful. It is in the most general terms about a mother's delivery of her son. It is about complication and heartbreak and fury and above all, love. It is one of the most courageous poems I have ever read, and I will never forget it. It is in fact a poem that is parenthood, motherhood: it's brave and it's beautiful and its feelings are hurt and its body hurts and it's right and it's wrong and it has no the f- idea which is which and it's blinding and blinded by itself and love. Most, it is hope, giving.
It's also 21 pages long. I had to look, and I couldn't believe that. It feels like it is a page, because it is in fact a page-turner, if you can see the page, because you are also crying.
4. Give us a line or excerpt from the text that intrigues, engages, mystifies, inspires, disgusts, or transforms you. Discuss…
"and your brown lashes flutter revealing two perfect dawns colored by New York/ see a vast bridge stretching to the humbled outskirts with only you/ standing on the edge of the purple like an only tree"
"I nod. 'I know you can do it.' I nod again. 'You'd better get some sleep,' the boy named Crow says. 'When you wake up, you'll be part of a brand-new world.' You finally fall asleep. And when you wake up, it's true. You are part of a brand-new world."
"The leaves, little green lamps for the sunblind."
The first is from O'Hara's "Now That I Am in Madrid and Can Think." The second is Murakami. The pronoun shift. The pronoun shift. The third is from Shaughnessy's "Vacation."
5. Who did you send this book to, why?
I will send a copy of perhaps not the Selected but Frank O'Hara's Lunch Poems to my first-year college roommate. It will make her either smile or shriek.
I have sent or given or inflicted Kafka on the Shore upon a number of people in years past. Last autumn, I sent it to another dear friend from college who had relocated from one coast to the other.
I will share "Our Andromeda," the title poem, with the same college roommate. She has a young son now. Also, with a friend here in Iowa City, a mother of three small children who is doing an amazing job every day.
***
Bio: Margaret LeMay's poems have appeared in The Cortland Review, Little Village, Transom, and elsewhere. She lives in a green house, a house painted green, with her three-year-old son in Iowa City.